Card Case, Register and Google Wallet: What You Need to Know
U.S. consumers, especially younger ones, have seen the future, and it's not about cash, checks or credit cards. It's about mobile payments.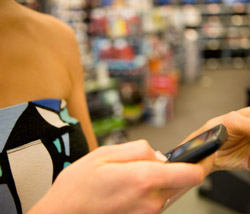 A new study from MasterCard says that 65 percent of U.S. consumers between the ages of 18 and 34 say they prefer carrying a phone to a wallet or a pocket book. "Consumers are already living a mobile lifestyle, so using their phones to make payments on a daily basis is a natural next step," said Mung Ki Woo of MasterCard Worldwide in a press release. "2011 is the beginning of the NFC mobile payments era, and consumers are eager to get their hands on the first commercial deployments in the U.S."
Another recent study from Mobio Identity Systems came to a similar conclusion. The study found that Americans fully back mobile-payment systems, as long as security is solid. Mobio says that 94 percent of survey respondents said they would use mobile payments as long as their personal financial data was safe.
Experts say that if enough customers choose to take that leap and use a cell phone to pay for bills and purchases, it could be a real game-changer for credit card transactions -- and for merchants.
Now, two high-profile online consumer companies -- Google and Square -- have new mobile-payment applications that promise to make it easier than ever for consumers to take that next step and use their mobile devices as a "digital wallet." Both Square and Google are establishing long-term strategies with these new payment technologies, and consumers seem ready to bite. But what about merchants?
If you're thinking about participating in one of the new systems, here's a rundown of what you need to know:
Square's Register and Card Case
In a press release announcing Square's Card Case, Square founder Jack Dorsey predicted a sea change in the consumer-payments market. "Cash registers and credit card terminals are relics of an expensive, complicated and impersonal commercial transaction system," said Dorsey. "With Register and Card Case, we're transforming everyday transactions between buyers and sellers into something special."
The Square release has two tiers: Square Register and Card Case. Square Register aims to replace countertop check-out registers with a smaller, more elegant and efficient system based on Apple's iPad, Square says. The Register software embedded into a merchant's iPad is a touch-enabled point-of-sale and checkout system that lets merchants manage sales, check daily transactions, change pricing at a keystroke, produce digital receipts and establish "virtual storefronts" to engage customers.
With Register, consumers can check a retailer's "menu" on their cell phones and check for daily deals. Customers can also open a tab on their phones to buy with one touch; their personal data is safely stored behind a secure firewall.
Card Case is even more customer-focused. An app that's available on the iPhone and Android, Card Case lets consumers access the Register's Directory and Menu and open tabs with merchants who can store customers' profiles and photos in the system's database, making them good targets for marketing and sales deals.
Square is already taking off with its mobile phone payment systems. The San Francisco-based company has shipped (through May 2011) 500,000 Square card readers, accumulated 1 million transactions in May alone and is managing $3 million in mobile payments daily.
Not bad for a company that launched just last year.
What merchants need to know: Price-wise, Square is charging merchants a high 2.75 percent fee for the Register application. High-end merchants with heavy volume will likely have a problem with that pricing arrangement. Square also restricts funding for merchants at $1,000 per week, reserving the rest for 30 days.
Google Wallet
In late May, Google announced a new mobile payment system called the Google Wallet that's available, for now, only on the Sprint Nexus S 4G mobile device. The system lets consumers make contactless payments on MasterCard PayPass terminals. In a limited launch, Google is releasing its new mobile wallet in NewYork, San Francisco, Los Angeles, Chicago and Washington, D.C. Major retailers such as Walgreens, Macy's, American Eagle and Subway have already signed on.
Essentially, Google Wallet allows consumers to store credit cards, debit cards and gift cards on their smartphones. But the technology is limited to the Nexus S phone (which is equipped with an NFC chip) and to customers with a Citibank MasterCard (or a Google prepaid card). Technically, all users have to do is wave their smartphones over a participating merchant's terminals to make a purchase.
Google is obviously bullish on the technology and wants merchants and consumers to be equally enthusiastic. "Because Google Wallet is a mobile app, it will do more than a regular wallet ever could. You'll be able to store your credit cards, offers, loyalty cards and gift cards, but without the bulk," Google wrote on its blog. "When you tap to pay, your phone will also automatically redeem offers and earn loyalty points for you. Someday, even things like boarding passes, tickets, ID and keys could be stored in Google Wallet."
What merchants need to know: For merchants, especially e-commerce-only retailers, the Google wallet comes with higher fees than it charges brick-and-mortar shops. That could lead to some initial resistance from many. Google is also helping pay for some merchants' new terminals, the NFC Times reported, but not all.
See related: 5 more reasons why setting up a mobile payment system is worth the expense; Study: Get ready for mobile wallets
Published: June 14,2021