Etsy introduces alternative to merchant accounts
Etsy.com provides a sales venue for approximately 800,000 crafters, artists, materials suppliers and sellers of vintage items who sold a total of $467.8 million during the first 11 months of 2011. Etsy buyers can pay for their purchases using credit cards, but it's not always an easy process for buyers or online merchants. In an attempt to improve those transactions, Etsy recently announced that it's rolling out a new "direct checkout" system to U.S.-based sellers that will enable them to accept credit card payments using Etsy as their processor.
The basics of Etsy's direct checkout
Until now, Etsy sellers have had two options for accepting credit cards. The first is to direct buyers to PayPal -- but some buyers (and sellers) don't like dealing with it. Etsy shop owners can also open a merchant account to accept credit cards, but these sales were not integrated into the Etsy checkout system. Instead, customers had to be redirected from the Etsy website -- making the buying process unwieldy and time-consuming. In addition, many sellers don't like the costs associated with merchant accounts, which often include monthly fees, plus fees for each transaction.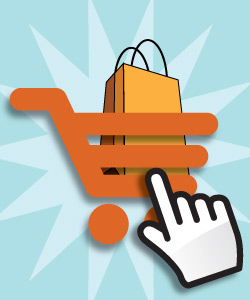 "Direct checkout, in addition to simplifying payment, lays the groundwork for many more payment and checkout improvements, including Etsy-wide gift cards and enhanced international payment options," according to an announcement about the new service on Etsy's blog.
Etsy's direct checkout will allow customers to use credit and debit cards from Visa, MasterCard/Eurocard, Discover and American Express. The user experience will be similar to that of Amazon, which allows shoppers to pay for items from a variety of sellers at once.
For the initial launch, direct checkout is available only for a "small percentage" of sellers within the U.S. Over the next several months, Etsy will be rolling out direct checkout to other interested shops. Signup for direct checkout is optional for all sellers -- they can continue to use their merchant accounts or Paypal if they wish. Sellers will have to request that Etsy approve them for the service and then wait to be notified by Etsy when this has occurred. Etsy has not provided a definite timetable for the rollout.
How Etsy's direct checkout works
Etsy will set up a "shop payment account" for each seller approved for direct checkout. When a buyer uses the direct checkout option, the money due to the seller will be put into this shop payment account. The funds for this purchase will not become available until two things have happened:
Three days have passed (a three-day deposit delay).
The transaction is completed (i.e., the purchased item has been sent out).
Etsy shop owners will have the option of transferring money from their shop payment accounts into their own banking accounts as soon as both of these conditions have been met. Otherwise, Etsy will transfer all available funds into their bank accounts every Monday.
Etsy will charge a payment processing fee of 25 cents per order and 3 percent of the total cost (including shipping and sales tax) of the order. These charges will be automatically subtracted from any payment before the money goes into the shop payment account. These direct checkout fees are in addition to the20 cent listing charge per item and the 3.5 percent transaction fee that Etsy charges all shop owners.
If sellers issue refunds, Etsy will refund a proportionate amount of the payment processing fee.
To sign up for Etsy's direct checkout, shop owners will be required (by federal law) to provide their home addresses, home phone numbers, the last four digits of their Social Security numbers and their U.S. bank account numbers. Etsy is also required to send 1099-K forms (reporting direct checkout sales) to the IRS for all Etsy shop owners who process more than $20,000 in payments and have at least 200 payments through direct checkout in a calendar year.
If sellers sign up for Etsy's direct checkout and decide that they don't like it, they can opt out at any time.
The pros and cons for merchants
There have been some spirited online discussions among the Etsy community ever since the company announced the direct checkout capability.
On the positive side, many sellers are pleased that Etsy is offering this service. They like the fact that the purchasers will remain on the Etsy site to complete their transactions. Other sellers feel that direct checkout will boost their sales, because it will enable them to serve customers who don't use PayPal.
Merchants concerned about the fraudulent use of credit cards like the fact that Etsy will bear this risk under direct checkout. If Etsy approves the transaction and the credit card is later found to have been used fraudulently, sellers will not be responsible for losses.
But some sellers don't like the three-day hold that Etsy is placing on payments, and others believe that the fees for direct checkout are too expensive -- and consider PayPal a better deal. Etsy says it believes its fees are fair and competitive.
Other sellers are unhappy that the direct checkout process does not release funds until the item is shipped, since they may need the money to purchase supplies to create or ship the item. Sellers used to PayPal's integrated shipping capabilities (like label printing and tracking) are unhappy about losing those conveniences with Etsy's direct checkout system. Etsy says that it's aware of the problem and is working to create a solution that protects buyers, sellers and Etsy.

See related: V.me:A new payment option from Visa; Online shoppers find mobile payments safer than credit cards
Published: February 29,2021