A new way to accept credit cards -- with a webcam
Mobile payment technologies like Square, a little square device perched atop iPhones around the country, have seen a lot of success with technology that turns mobile phones into credit card readers. These easy-to-use payment tools allow business owners to avoid the high fees that some merchant account providers tack on to process credit cards. However, current mobile payment devices could soon be outflanked by the next generation of payment technologies introduced by payment companies, such as Jumio.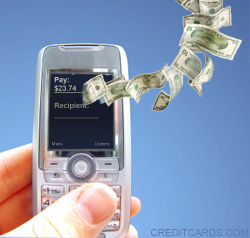 Jumio rolled out its new video streaming payment suite of services, Netswipe, in July and introduced a Netswipe plugin for WordPress-powered blogs the following month.
Proponents of the technology -- which turns any webcam into a card reader -- say the new device is secure and simple to use.
"Once Netswipe is selected at the point of checkout, the customer holds the card in front of the webcam for less than a minute, with the numbers facing the camera," said Jumio spokeswoman Bettina Winters in an email. "The computer vision technology reads the card via a secure video stream."
Netswipe does not take a snap shot of the card, added Winters, and does not store any information on the customer or merchant's computer. "It is just like swiping a card in a store," she said.
Currently, the technology is available to use for purchases made in all online stores. However Jumio has a mobile solution that will turn any mobile phone into a payment device in the works that will be launched later this year. Jumio will allow app developers to integrate the technology into their own apps and services.
Winters says Netswipe may be a good fit for some merchants since no additional hardware is necessary other than a mobile phone, computer or smart pad with a webcam. "At the point of sale, the shop owner's computer can be used as a cash register, just requiring an internet connection," Winters said.
Jumio created Netswipe for business owners as a cost effective alternative to rival payment services. "Jumio charges a very competitive flat fee of 2.75 percent of the transaction volume," Winters said. "There are no hidden fees."
In its short time, Jumio's Netswipe has already seen a lot of success. Less than a month after its official launch, Jumio unveiled its Netswipe plugin for all WordPress blogs and websites for easier payment integration. The plugin allows website visitors to pay for products, place donations or settle debts.
"Overall, Jumio creates a new win-win situation, the entire payment industry could benefit from Jumio's cheaper and more secure approach to payments," Winters said.
Industry leaders seem to agree. Jumio's pre-launch negotiations drew an A-list of tech partners who pumped $6.5 million into the startup. Facebook co-founder Eduardo Saverin serves as a member of the Jumio board of directors and former executives from Google, Amazon and NASA make up Jumio's advisory board.
See related:
Card Case, Register and Google Wallet: What You Need to Know
;
Are the security concerns over Square's mobile payment device valid?
Published: September 8,2021