---
Merchant Account Guide > Merchant Account News > Merchant loyalty programs get digital makeover

Print

Email
Merchant loyalty programs get digital makeover
Customer loyalty programs have come a long way since the familiar buy-10-get-one-free punch cards. Now, merchants are keeping customers coming back for more with programs that track purchases and offer tailored rewards.
Just a few years ago, location-based apps like Foursquare introduced a "check-in" concept that helped consumers discover nearby merchants, save money and uncover bargains. Merchants could then lure customers in the door with promotions -- free drinks for the first 100 visitors to check in with the app, for example.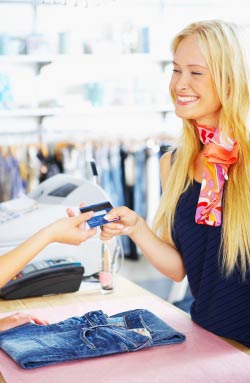 The market is now flooded with similar vying startups. Yet the latest generation of loyalty programs doesn't just allow merchants to reach out to new customers with a broad stroke. Instead, these programs allow merchants to get customer data, target repeat shoppers with personalized offers and even get customers involved in spreading the word about the business.
Here are some to watch.
Swipely: This 3-year-old company started as a social network that allowed users to share their purchases with friends. When that didn't work, it evolved into a credit card-based loyalty program geared at small businesses.

Customers link their debit and credit cards to their Swipely accounts, while merchants set up point-based loyalty programs. Whenever customers use their linked cards at participating merchants, they receive loyalty points that can be cashed in for free goods or discounts.

In March 2012, Swipely announced that it was rolling out additional tools for merchants that let them reach out to customers with deals structured around recent purchases. Merchants can use Swipely's dashboard to evaluate the number of days since a customer's last visit, the average amount that customer spends and what the customer regularly buys. The businesses can then send customers "we miss you" messages with deal offerings based on their shopping habits -- which will hopefully bring these shoppers back.
LevelUp: This year-old mobile payments platform (available to businesses in New York, San Francisco, Philadelphia and Boston) allows users to pay by scanning a QR code with their phones. Customers link the cards already in their wallets with a LevelUp account. They then receive a unique QR code, which they bring up on their phone's screen whenever making a payment. The merchant scans the code to complete the transaction.

By paying with LevelUp, customers receive exclusive discounts. A first-time-shopper discount gets them in the door, and the store credit they can "unlock" after certain spending levels keeps them coming back. LevelUp also compiles data for merchants that helps them analyze who their customers are and what they're buying.
Ox&Pen: This Chicago startup, which launched in March 2012, has a network of local merchants -- and a unique loyalty program that rewards customers not only for repeat business, but for spreading the word on social media.

Customers download the Ox&Pen app to their phones. They can then accrue points redeemable for deals in several ways:
Making purchases and scanning the receipts into their phones (Ox&Pen approves the transaction and deposits points into the customer's account).
Checking in with their smartphones when visiting the business and sharing that check-in with their social networks.
Writing a review about the business and submitting it to Ox&Pen.
A customer doesn't have to make a certain number of purchases before receiving an initial reward, as amassed points can be redeemed immediately at any place within the Ox&Pen network. Thus, customers have an incentive to make frequent visits -- and to provide the merchant with free advertising in their social networks to rack up more points.
Perka: This tool operates like a mobile-based version of traditional punch cards. Launched in October 2011, it's been targeting small businesses that can't afford the complex loyalty programs that larger businesses can.

With each purchase, a customer earns digital "stamps" that are stored in their Perka accounts. Merchants decide how many stamps are needed to earn a reward.

Whenever customers visit a participating store, they alert the merchant by checking in on a smartphone or by sending a text from any phone. That way, the merchant knows which customers are in the store and how many points they have. If, for example, a customer needs just one more stamp for a reward, the merchant can encourage her to make another small purchase on the spot.
Chatterfly: This mobile-based rewards service (launched in August 2011) assists businesses in engaging their customers via social media. As with Ox&Pen, customers can earn points for purchases -- and for sharing those purchases with their social media networks.

Different social media activities (tweeting, recommending the business to friends, or snapping and sharing a photo) earn customers different numbers of points that can be redeemed for goods or special VIP events. Chatterfly encourages participating merchants to entice customers with other fun ways to earn points -- like having in-store scavenger hunts that involve finding and scanning QR codes. In other words, businesses can establish loyalty by getting their customers to interact with them.
See related: Eventbrite enters portable register fray, Etsy introduces alternative to merchant accounts
Published: April 23,2020
Comments or Questions, Library of Stories
| | | |
| --- | --- | --- |
| | | |
| | Three most recent Products and features stories: | |
| | | |
---